A NEW YEAR PULSING WITH POSSIBILITY
---
When a new year begins I have already hung up the calendar planner near my office desk and inserted fresh pages into the Filofax ready for a flood of concert dates, TV interviews, Hollywood auditions and doctors appointments. But by this time in the winter I am dazzled by the amount of blank white space still visible. Last year was quiet enough. The gig scene is in a bad state and all my pals are complaining of the lack of offers. Or rather realistic offers. There are plenty of possibilities to play for the door or even pay to play, which makes even less sense in what used to be a professional world.
There seems to be a feeling that music should be free and we musicians should be happy to leap into our cars, vans, trains, buses, planes and wheelchairs to rush hundreds of miles to perform, entertain, thrill or bore ecstatic or indifferent audiences before packing up the instruments, catching a few hours sleep in the nearest doss house or ditch before returning to our respective homes, cages or park benches.
Surprisingly perhaps, I'm not prepared to do this and I don't expect any musician who works with me to do it either.
It all started with Steve Jobs and his rotten apples. iTunes and all its bastard offspring made it possible for us to download and stream, suck and guzzle, all of musical history for a few pennies. The income for the record companies shrank dramatically and this loss was swiftly shoved on to the creators of the music. Us lot. So at a stroke our income was cut. I heard recently from a well known pal, a star in fact, that he was considering whether it was even worth recording another album.
We found we would have to live from playing live. Many of us have always done that anyway and loved it. I've been on the road for over fifty years, sometimes more than 250 performances a year. And there lies another reason for the economic meltdown.
Most musicians just love to play, especially those of us who play improvisatory, creative music. And a life in music still seems attractive and glamorous, so much so that lots of young people take up instruments and form bands of all kinds. The market is flooded and yet the market-place is shrinking. Result – prices drop. We see everywhere bands who once filled stadiums now playing smaller venues, still drawing a few thousand but not like before.
Many of the arts clubs which once provided great gigs have had their government support cut and now have to budget very carefully if they want to stay in business.
I'm fortunate in that I can bide my time and enjoy my freedom from the rigours of constant travelling.
Apart from some one off shows with the dear friends who like to play with me regularly there are various plans for appearances this year with some esteemed artists from my long history. I will be keeping you informed as and when these dates are fixed.
WE'RE BACK!
---
It seems a long time since I wrote on my own page. I think I got distracted by Facebook and enjoyed expressing myself on that social medium. I could post my gigs and try to get you interested to come and hear me and my various pals playing the different kinds of music we enjoy. I could also make smart comments about people and things I knew little about and post videos of some of my favourite performers who probably weren't yours. I shall continue to do this because there's nothing nicer than sharing things
I found a lot of old friends and accepted some new ones and neglected this website. I was urged to revive myself ???? My daughter, Stephanie, found me two very capable experts, Daniel and Julian, and the results are now here.
There's a lot of catching up to do but I will manage it. I certainly have time because in the last five years the music business, as far as I can ascertain, has changed dramatically and not in a good way. Demand for live music has shrunk and the supply of people who want to play before an audience, any kind of audience, has grown enormously. So, if you know the Laws of Economics as laid down by such as Gladys Keynes, Robin Hood and Ronald McDonald, you'll realise that the price for musician's services has dropped like a groupie's knickers.
It's a sobering thought that promoters are now more interested in booking a good, young cover band than contracting the originals. The risks are nowhere near as great and the new audiences don't seem to care one way or the other.
In the months to come I will fill you in on the good and bad things which have happened in recent years and, ever optimistically, on the ideas and projects which my agent, Claudia, and I, try to put on the road. My days of 200 shows a year are long over and I'm quite happy about that. It is an old musician's maxim, "we don't get paid for playing, that's just pure pleasure. We get paid for the pain in the ass journeys, the traffic jams, delayed planes, dodgy hotels etc."
It is now the end of August 2015 and I'm drawing a UK pension and so is Mecky. Rule Britannia. Living in South Germany is as purely pleasurable as playing my drums. Let's hope I can go on doing both for a while longer. More soon.
PETE'S NEW WEBSITE IS ONLINE
---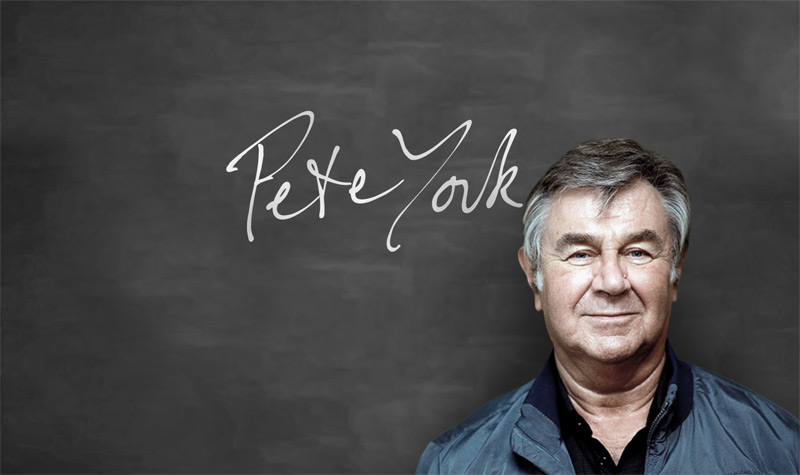 At last. It was about time!