WE'RE BACK!
---
It seems a long time since I wrote on my own page. I think I got distracted by Facebook and enjoyed expressing myself on that social medium. I could post my gigs and try to get you interested to come and hear me and my various pals playing the different kinds of music we enjoy. I could also make smart comments about people and things I knew little about and post videos of some of my favourite performers who probably weren't yours. I shall continue to do this because there's nothing nicer than sharing things
I found a lot of old friends and accepted some new ones and neglected this website. I was urged to revive myself ???? My daughter, Stephanie, found me two very capable experts, Daniel and Julian, and the results are now here.
There's a lot of catching up to do but I will manage it. I certainly have time because in the last five years the music business, as far as I can ascertain, has changed dramatically and not in a good way. Demand for live music has shrunk and the supply of people who want to play before an audience, any kind of audience, has grown enormously. So, if you know the Laws of Economics as laid down by such as Gladys Keynes, Robin Hood and Ronald McDonald, you'll realise that the price for musician's services has dropped like a groupie's knickers.
It's a sobering thought that promoters are now more interested in booking a good, young cover band than contracting the originals. The risks are nowhere near as great and the new audiences don't seem to care one way or the other.
In the months to come I will fill you in on the good and bad things which have happened in recent years and, ever optimistically, on the ideas and projects which my agent, Claudia, and I, try to put on the road. My days of 200 shows a year are long over and I'm quite happy about that. It is an old musician's maxim, "we don't get paid for playing, that's just pure pleasure. We get paid for the pain in the ass journeys, the traffic jams, delayed planes, dodgy hotels etc."
It is now the end of August 2015 and I'm drawing a UK pension and so is Mecky. Rule Britannia. Living in South Germany is as purely pleasurable as playing my drums. Let's hope I can go on doing both for a while longer. More soon.
PETE'S NEW WEBSITE IS ONLINE
---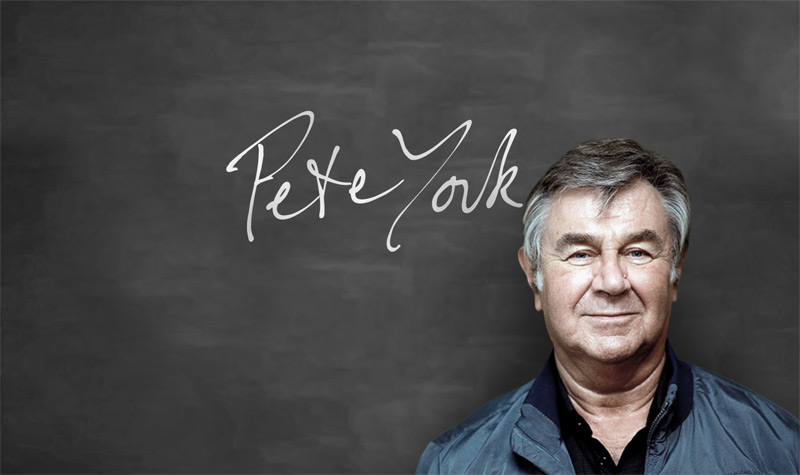 At last. It was about time!
THE CENTENARY OF GENE KRUPA
---
One thing every old drummer knows, it's the Centenary of the first Super Drummer, Gene Krupa, born January 1909 in Chicago. He went on to become a pop idol for his time, during the swing Era of the late Thirties.
His good looks made him a star in Hollywood movies where the story lines had him drumming on whatever was handy at the slightest provocation. He remained a respected figure in the drumming fraternity until his death in 1973 and his life was filmed once with scant regard for the true facts. The real story is far more thrilling and heart-warming and we hope to tell it one day in a theatre musical. If I should live so long !!!!
But for now I have to be content with playing a few shows with the fine trio of Claus Koch and Kuno Kürner and paying tribute to this great musician as best I can.
The first dates will be on Mar 20 in Fürstenfeldbruck, March 21 in Seefeld (Ammersee) and April 24 in Eisenach. We hope to meet some of you there.