THE SWING & STRINGS ORCHESTRA
---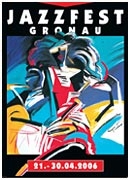 The Swing & Strings Orchestra has an outing to Gronau in April.
This group has Pete and Sandy Patton singing George Gershwin and Duke Ellington songs. Stephan Holstein
and Martin Schrack provide the jazz solos and the string quartet provides lush backing and also strong statements
of the themes. The string quartet also swings mightily through some arranged "solo" passages.
Pete loves this group and so do all those who've been lucky enough to hear it.
They will appear as part of the Jazzfest Gronau which has a really amazing line-up of bands.
Check out their website.